Diligent Work (2022)
Flux Factory at Governor's Island

The title of this exhibition was "Help Wanted" spotlights on "Domestic Workers". Their work is hard, tough, and essential to this county, but it's still invisible and unequally treated by our society.
I wanted to do a performance that viewers can participate and work together. The work requires very diligent, focused and repetitive labor in a fun way.
The performance required asking a group of participants to challenge situations, solve the issues, and having fun to "create America".
Welcome Back Performance
at Amos Eno Gallery (10/2021)
Related to sculpture piece, "Welcome Back", I created an associated performance that consisted of two nursing dresses that I call Sculp-cou-ture. A black dress that represents my desperate memory of not having any drip of milk. The performance is done in two parts. The first part was a walk around the gallery and hallway like a sleepwalk to look for the milk and recalling/healing my post maternal time by ringing a bell. The second part was a change of dress inside the sculpture like a "fitting room" which I often needed to use as a nursing room when I was in public due to lack of a place to feed the baby. This new colorful dress expressed one of my best pleasure experiences related to nurturing. After coming out of my sculpture, I cut off a part of my ruffle dress and attached the piece to the sculpture with a long needle.
I Love You More (2021)
Presented by 1922 Gallery
at NYC Central Park
In this interactive performance piece, I wanted to connect people by using a 6 foot long string telephone while sitting on white bed sheets. I made one simple rule: when you want to tell anything"you love about your performance-partner", you will use your string-phone. This handmade classic toy allows you to hear "his/her words about love" very closely like inside the bed. The trigger to make this piece also related to my experience of Asian Hate and sadness of disconnection.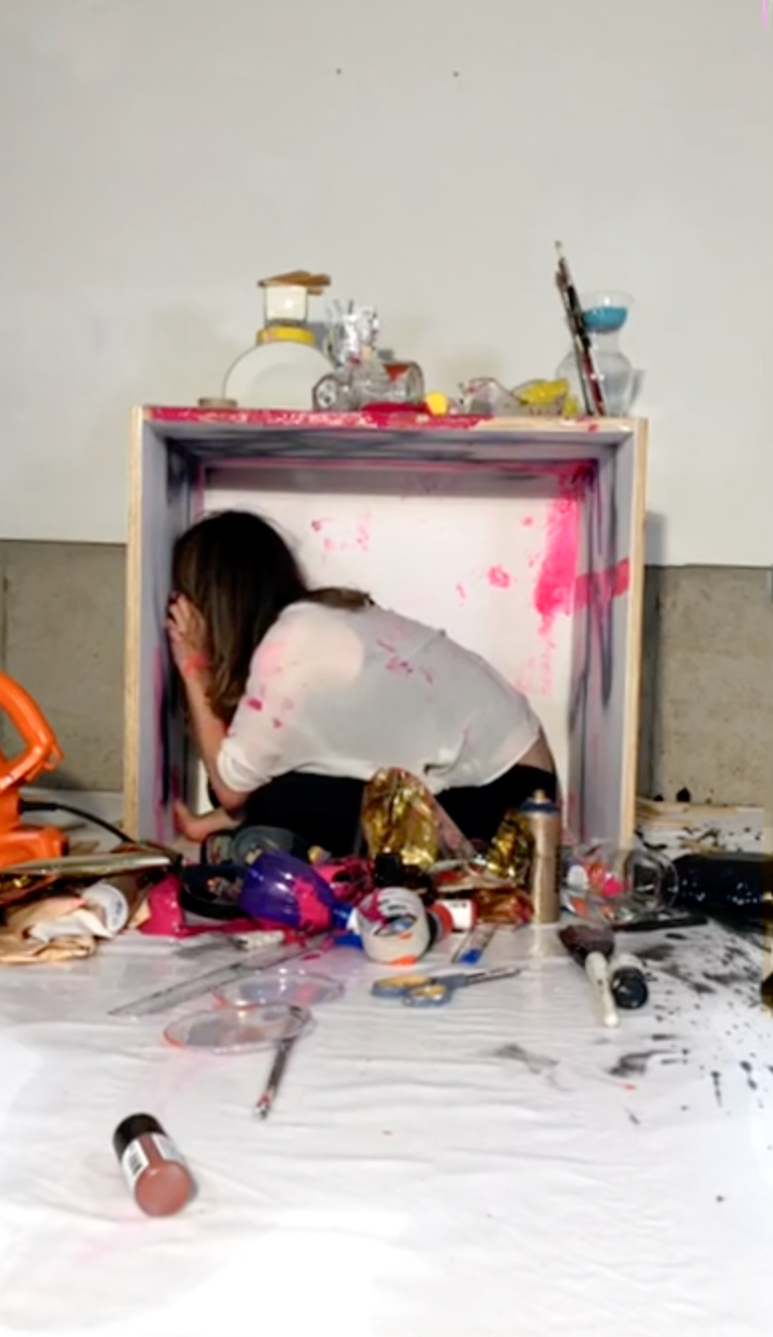 The Sky Has Been Nowhere (2021), 20 mins, Radiator Gallery IGTV
I was invited to remotely perform by Radiator Gallery and ANTE mag during COVID pandemic time. I performed from my studio as a direct response to our lockdown experience. The piece elicits the isolation, struggle, and desperation by staying inside an uncomfortably small box. During the performance, I attempted to create art inside the box and get materials from the top of the box that I couldn't see. The difficulty in getting materials from the top of the box illustrates the difficulty of online shopping due to too much demand. Also, destruction of all the materials expressed our normal daily life that unintentionally was lost.
Performance at Benrimon Contemporary Gallery in NY (2010)
Relating with my video work "Follow Me", during the opening reception in NY, I performed to connect from Tokyo. The visitors can video chat with me about top 100 hashtag topics at that time.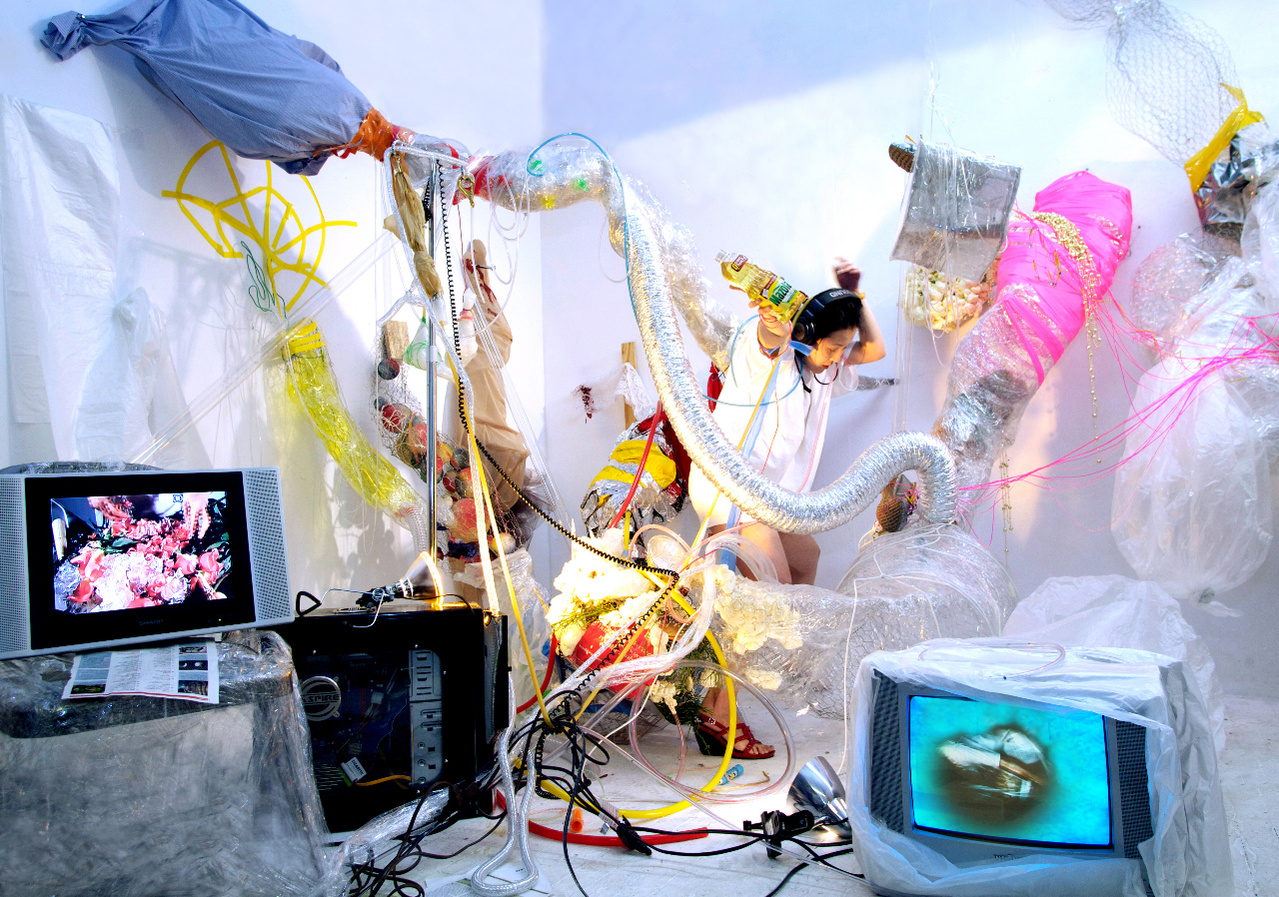 Daily Ritual (2008) Performance
Two DVD monitors, used business shirts, pacifiers, broken computer, IV folder, clear plastic bags, teddy bear, color tubes, sound

I made a subconscious controlled situation by the 300 sq.
of space sculptural installation. Using objects such as business shirts, colorful pacifiers, a broken computer, an IV, wrapping of clear
plastic, and a hidden teddy bear, I deconstructed the symbols of personal dogma. I tied my body with many colorful tubes.
During the performance, I played a voice-over that gave me quests, for instance, "Be strong," "Be honest yourself," "Thanks to people"…etc with limited time. The sound manifests a priest sermon that they give people a hint or guide for better life. It, however, always has the limited of human thoughts under the "God" control. Each time for the actions, I had a choice what I am going to do for the task.
The other to say the choice is always controlled and limited by something.